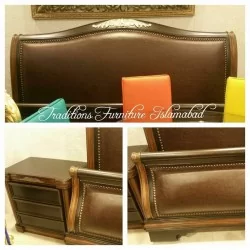 This elegant Solid Sheesham Rosewood bed frame with Cushioned headboard (can be provided with wooden finish as well), brings an exclusive, luxurious feel to your bedroom.
King Size Bedroom Set. 
Dimensions
6.5 feet x 6 feet
Two Side Tables
Dresser
Polish/fabric Color Options available. 
For Details Call us at +923365082271 or Visit Us.