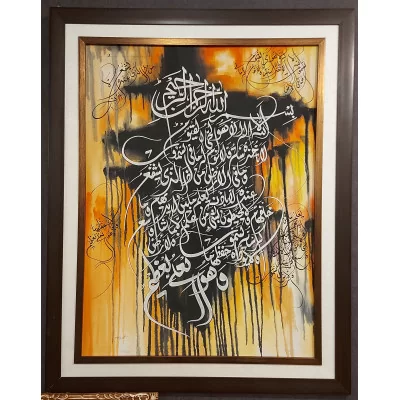 Beautiful Hand Painted Ayat ul Kursi
About the Art Work
The Ayat Al Kursi (Arabic: آيَةُ ٱلْكُرْسِيِّ, Ayat Al-Kursi) is the 255th verse of the 2nd chapter of the Quran, Al-Baqara (Q2:255). The verse speaks about how nothing and nobody is regarded to be comparable to Allah.
This is one of the well-known verses of the Quran and is widely memorised and displayed in the Muslim world.
Details & Dimension
Original:One of a kind hand painting

Size:5ft x 3ft

Shipping
Delivery Time:Typically 5-7 business days for (domestic) shipments.

Delivery Cost: For Shipping Cost please contact on (Call or Whatspp) +923365082271.
For Details Queries and Bookings, Please Call OR Whatsapp +923365082271